At the centre of the bustling city of Nairobi along Kenyatta Avenue, next to the famous New Stanley Hotel is Pan Afric Life Insurance house, an inconspicuous old-style building, different from the glass and steel structures that are typical of Nairobi.
Inside one of the offices is Ahmed Abdi, CEO of Amana Insurance Brokerage Limited. Ahmed is an exuberant young man whose contentment with life is evident. Smartly dressed in a modern lounge suite, the 29-year-old has all the reasons to be happy. His business is doing quite well.
On June 9, 2015, Ahmed was featured in "The Entrepreneur," a weekly program aired on Kenya Television Network that features successful entrepreneurs in the hope that it will inspire others. In December last year he was featured in the Business Daily's Top 40 Under 40 Men in 2015.
Life was not always like this for Ahmed. He is a former matatu tout who now owns an insurance agency. He joined his cousin's firm as a messenger, where he was offered working space until he was stable. Life changed for him since then.
He has received several awards, including the Best Agency Award in 2011. Earlier 2015, he left Takaful (his cousin's agency) to start his own company by the name Amana Insurance. With his impressive aptitude, he was recently named the Best Insurance Broker. When he started working for his cousin, he only had a primary school certificate but has since pursued further studies, gaining qualifications in insurance and strategic management.
Ahmed comes from a humble background and encountered myriad challenges that had far reaching implications on his life. Born in Garissa County and schooled in Dadaab Primary School before transferring to Al Farouq Primary, Ahmed's early life was as precarious as that of the Dadaab camps.
His parents were poor. There was no quality e*******n and therefore his future virtually appeared bleak even from his early childhood.
Despite the odds, Ahmed did well in his Kenya Certificate of Primary E*******n examinations in 2002 and got admitted to Bura Secondary School.
Life at Bura Secondary School was tough. Ahmed almost lost hope. He did not have school fees and dropped out of school in 2003. Ahmed had no option but to contend with a bitter reality of dreams unfulfilled. However, as the third born and the eldest son of a family of nine, Ahmed was the sole breadwinner. He had to take care of a demanding family with little resources.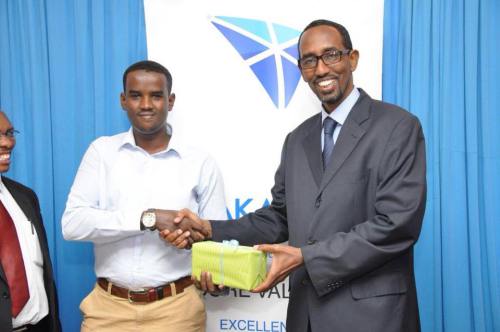 Ahmed tried his hand at everything to make ends meet, from a matatu tout, a novice garage mechanic, a truck turnboy and part time driver in Garissa town.
No one bothered to reply to his application letter to a certain hardware in Mombasa that promised to pay him a paltry 5,000 shillings ($50) salary a month. "Life sometimes can be full of tragedies and heartbreakingly b****l," he says.
On April 28, 2008, while he was going on with his daily chores in Garissa, Ahmed received a call from his cousin Nageye Mohamud Dahir, which fundamentally changed his life for the better. He was called to serve as an office messenger for Nairobi-based Transnep Insurance Agency, a company owned by cousin Nageye.
Seizing opportunities
A stranger to the city, Ahmed never got swayed from his purpose. He was a zealous hard worker and his determination soon earned him respect and accolades within the organization. In a short span, Ahmed rose through the ranks to become a marketing executive, then general manager supervising all the activities.
When the opportunity came, Ahmed registered for the Kenya Certificate of Secondary E*******n in 2008 as a private candidate and he got C-minus despite all the challenges of studying on his own and still having to earn a living in full time employment. This made him pursue several courses including marketing and strategic management that gave him much needed managerial skills to match his increasing responsibilities.
Ever on the lookout for opportunities, on March 23, 2011, Ahmed registered his own company, Al Amana Insurance Agency (later Amana Insurance Brokers Limited), with a friend as a partner. He extended the same zeal to it.
[crp]
Amana blossomed. It was the first agency to register with Takaful Insurance (a Sharia compliant insurance firm) and introduce a private motor insurance policy. Since then, Takaful Insurance became Amana's lifeline, winning several encouraging awards as the best agent.
Ahmed greatly attributes his success and that of his company to Hassan Bashir, CEO of Takaful Insurance who mentored him. Today, as he enjoys the serenity of his executive office, Ahmed goes down the memory lane.
"Sometime when the memory of my past haunts me," he said, "I pinch myself to confirm whether it was really me."
As he sips coffee, Ahmed continues: "Even the sky is not the limit. I still want to grow [my business]."
He plans to expand his business and transform it into an insurance company. He plans to expand into East and Central Africa. Besides, Ahmed wants to venture into agriculture and ICT, stating that it is the way to go in this fast-advancing world.
Don't play the v****m's card
Ahmed is focused and determined. His days start at dawn after the morning prayers. He then proceeds to his office to enjoy the serenity of the morning hours when the mind is still fresh. Ahmed spends his Sundays with his young family. He enjoys remaining fit and therefore occasionally goes to the gym. He also plays volleyball during his off-peak hours to remain healthy.
For Ahmed, his success is just the beginning; he is optimistic that what the future holds for him is even better. For those in life's doldrums, Ahmed says it takes courage, hard work and dedication. "Be yourself, accept the reality and move on. Don't play the v****m's card," he says.
Life was never fair to Ahmed but he managed to overcome his circumstances. "In life, there is no short cut, confront it in an objective way and you will triumph', he says. He stretches his hands while swinging on his big seat as he concludes: "Life can be scary but when it gives you lemon, make lemonade and stop crying for oranges." (Sahanjournal.com)
ALSO SEE