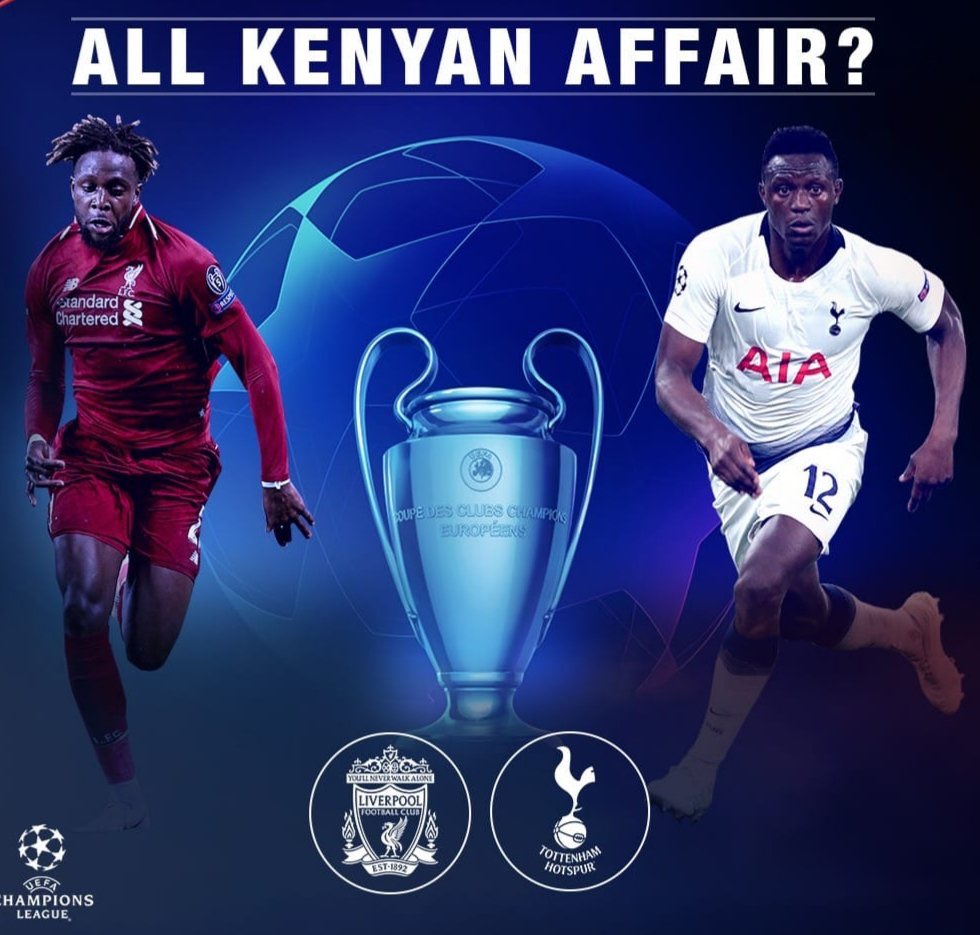 This season's Champions League semi-finals has witnessed great comebacks and a return of an all English final. English outfits Liverpool FC and Tottenham Hotspurs FC went against all odds to book a ticket to Madrid for the finals.
Kenyans are feeling like they have won as well in both teams' iconic wins because two Kenyans are part of both teams. Harambee Stars Captain Victor Mugubi Wanyama and Belgian International Divock Okoth Origi are the players Kenyans are proud of for making it to the finals.
Kenyans on Twitter have added another player to the list of Kenyans playing this years' UEFA Champions League (UCL) final. Tottenham's Brazilian striker Lucas Moura, who scored a hat trick to help Spurs get to the final, is KOT's third Kenyan.
Humorously, Kenyans have changed his name to Lucas Mwaura suggesting that he ails from Kenya as well. As from this morning, 'Lucas Mwaura' has been among the top trends on Twitter with KOT boasting of having three Kenyans in the UCL final.
The idea of making the UCL a Kenyan affair was started by Kenyan politicians who took to social media to congratulate Wanyama and Origi.
God is Great ?????? #COYS #UCLfinal pic.twitter.com/CTHtAb5JeM

— Victor Wanyama (@VictorWanyama) May 8, 2019
First was the Deputy President William Ruto, whose tweet was basically to congratulate the two. "Congratulations to @VictorWanyama and Divock Origi for playing starring roles for @SpursOfficial and @LFC respectively in a successful @ChampionsLeague campaign. #UCLfinal," the DP tweeted.
"With the teams facing improbable tasks of reaching the #UCLfinal, the lads, especially Origi, displayed fierce competitiveness, devastating finishing to complete an epic turnaround and crown victory. All the best in the Madrid showpiece. @SpursOfficial @LFC @ChampionsLeague," he added in a subsequent tweet.
Nairobi County Governor Mike Sonko also had something to say but attached his tweet with a photo of Origi Vs Wanyama written 'It's a Kenyan Affair'. He also mentioned that he was confused about who to support in the final.
"As predicted it's a Kenyan affair in the @ChampionsLeague finals on 1st June 2019 between @LFC vs @SpursOfficial at the Estadio Metropolitano in Madrid, Spain. Lakini sasa I'm confused between @VictorWanyama and @DivockOrigi nita support nani?," Sonko tweeted.
Many Kenyans took to social media to congratulate the two for their achievements following Sonko and Ruto's tweets. Kenyans have every reason to be proud of being represented at the final. However, if we go by the book, only one Kenyan will be playing at Wanda Metropolitano on June 1st and that is Victor Mugubi Wanyama.
Wanyama is obviously a Kenyan as he even plays for Harambee Stars but Origi changed nationality. Well, he is Kenyan by blood but he plays International football for the Belgium national team.
Two Kenyans in Champions League Final.

Victor Wanyama,Spurs
Divock Origi, Liverpool

That's the tweet. ??? pic.twitter.com/EkLuiqikHP

— Pye Waw (@pyewaw) May 8, 2019
Origi's parents are Kenyan and even his cousin, Arnold Origi played for Harambee Stars as a goalkeeper. On various occasions, Origi has visited the country and has amazed many Kenyans with his fluency in Kiswahili.
Wanyama and Origi, however, will not be the only Kenyans to have ever played in a UCL final. Wanyama's big brother MacDonald Mariga played for Inter in 2010 and even clinched the trophy. He got a Champions League Medal even though he was an unused substitute in the match.
Here's a weird footballing curiosity I have managed to dust off my brain:

If Victor Wanyama wins the Champions League with Spurs this season, he'll be only the second Kenyan?? to do so. The first? McDonald Mariga, who won it with Inter in 2010.

The fun part? They're brothers pic.twitter.com/9pyikoq6fD

— Jonas Giæver (@CheGiaevara) May 8, 2019
It seems to have been a great year for Kenya in Sports. Eliud Kipchoge and Brigid Kosgei did the country proud by winning the London marathon. The national team has qualified for AFCON for the first time in 15 years and two Kenyans will be playing at the UCL final. Forget about Lucas Mwaura, there is no footballer at Spurs with that name, Lucas Moura is Brazilian.
Who will you be supporting at the UCL final, Origi or Wanyama? It is going to be a Mashemeji derby, European division.
So the #ChampionsLeagueFinal will be a Mashemeji Derby,
Origi Vs Wanyama ?
What team will you support? pic.twitter.com/bkbTe8hkOd

— Churchill (@MwalimChurchill) May 9, 2019