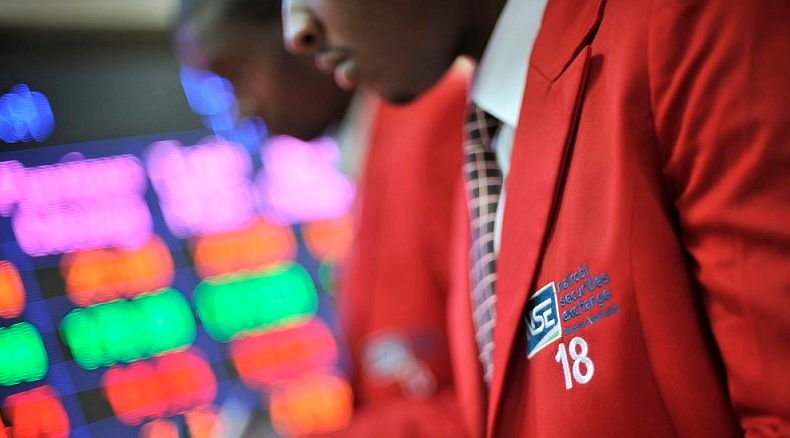 Day two of trading in 2019 at the Nairobi Securities Exchange (NSE) saw the bourse jump to Ksh483 million from the previous session's Ksh129 million.
In total, 15 million more shares changed hands on January 3 at the NSE as against yesterday amounting to a volume of 22 million shares.
The NSE 20 Share Index meanwhile was down 12.63 points to stand at 2810.15 while the All Share Index (NASI) shed 0.49 points to settle at 139.71. The NSE 25 Share index was down 10.93 points to stand at 3521.10.
In the bond market, activity was up nearly 100% to register at Ksh1 billion as against the KSh571 million from the previous session,
Sectors Wrap
The Banking Sector had shares worth Ksh184.7 milliom transacted which accounted for 38.20% of the
day's traded value.
Equity Group Holdings actively moved 4 million shares valued at Ksh141 million at between Ksh34 and Kes.34.50. KCB Group was down five cents to Ksh37.05 and moved 908,000 shares valued at Ksh33.7 million. NIC Group moved 156,000 shares valued at Ksh4.3 million and closed at Ksh27.65.
READ : WAITITU SENDS MOSES KURIA'S BROTHER ON COMPULSORY LEAVE AFTER UHURU JIBE
The Energy & Petroleum Sector had shares worth Ksh23 million traded & accounted for 4.77% of the day's turnover. Kenya Power & Lighting moved 2.9 million shares valued at Ksh12 million at between Ksh4.05 and Ksh4.30. KenGen was down 1.40% to Ksh7 and moved one million shares valued at Ksh7.3 million.
In the Insurance Sector, shares worth Ksh1.2 million transacted which represented 0.26% of the day's traded value. Britam Holdings closed 1.29% lower to Ksh9.92 moving 53,000 shares valued at Ksh529 million.
The Manufacturing and Allied sector had shares worth 2.66 million traded & accounted for 0.43% of the day's traded value. E.A Breweries traded 10,000 shares valued at Ksh1.76 million at between Ksh173.00 and Ksh173.25.
In Telecommunication, Safaricom was the day's biggest mover with 12M shares valued at Ksh271 million changing hands at between Ksh21.80 and Ksh22.50; this represented 56.13% of the day's traded value.
SEE ALSO : BRITAM ISSUES PROFIT WARNING AS NSE BEAR RUN CONTINUES