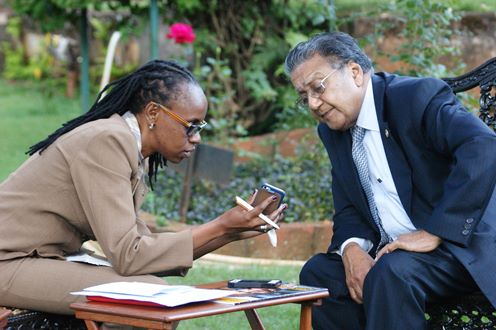 Carole Kimutai, the founding editor of TUKO, has left the breaking news website, one-and-a-half years since it launched in Kenya. It is understood that Carole's contract ended this month and she opted not to renew, though someone close to her revealed that she is working on a major project involving the production of biography of a prominent politician that could have become urgent as the clock ticks towards the next election in August next year.
"Today, 7th October 2016," Corole, a former editor of KIM-run Management magazine, said on her Facebook page, "the sun sets for me at Tuko.co.ke as I say my emotional goodbyes to the great team I have worked with.  What a fun adventure it has been starting and running a viral news site from scratch. It was a labour of love that has been very rewarding."
TUKO, owned by Russian-based Genesis Interactive, is one of the fastest growing online news sites in Kenya, jumping to the top 100 Kenyan websites within one year of operation. Readership growth has been steady, now at 3.5 million unique monthly users, company figures show.
In March 2015 joined a team of experts from Genenis to set up TUKO operations in Kenya. Carole, who was appointed managing editor, led the editorial section where she recruited and trained journalists on digital news. Even though startup, she took bold steps of raiding mainstream media houses such as Daily Nation and Standard for talent.
In March this year, exactly one year later, she was promoted to Country Manager to handle operations, marketing and sales. The Managing Editor position was scrapped and replaced with Chief Editor, which was given to former Daily Nation business writer Ramenya Gibendi in May.
Ramenya is deputized by Dickens Kasami, who also handles the Swahili desk. The two have been left to drive TUKO even as competition for readers and adverts grows. Three months ago, TUKO changed its content strategy to focus more on local viral content.
In addition, TUKO has incorporated a gossip section and Swahili news as it seeks to attract diverse readers in the highly competitive digital news space.
As TUKO amassed readers through viral content often re-written from the local dailies and news sites, Carole's co-director Valentine Gichau saw an opportunity and to launch an advertising agency. Genesis Interactive Agency (GIA) was born to drive ads to the site, but it failed to gain traction in an industry dominated by fewer but ferocious players.
Genesis CIS & Africa CEO Vasily Ulyanov is expected in Kenya this week on a hunting tour for business and perhaps manage Carole's exit, which is likely to hurt staff morale. According to insiders at TUKO, Carole was the "buffer between the Russians and Kenyan staff" as she would take all the heat on their behalf.
So where is she headed?
Meanwhile, advertising has been picking pace quarter on quarter, growing at an impressive rate of 20%, someone familiar with TUKO operations told BT. Besides, with huge traffic, TUKO is getting a bigger cheque from Google through Adsense advertisements.
Carole declined to comment on her exit, but her next destination could be body's guess with the Kenyan market going digital at bristling pace. The only thing that could stand in her way to go it alone or bargain for her experience with another media house is a non-compete clause she signed with Genesis which, according to insiders, prohibits senior employees who resign from working for competition or launching rival products/services for at least 18 months.
TUKO journalists have been poached by Ghafla, the leading gossip site that was recently bought out by Swiss media firm, Ringier. Ringier took Benjamin Muindi, who is now content manager. It won't be surprising for Carole to emerge at one of the ubiquitous sites in Kenya once the non-compete period lapses or earlier if she manages to get a legal way out of it.
[crp]