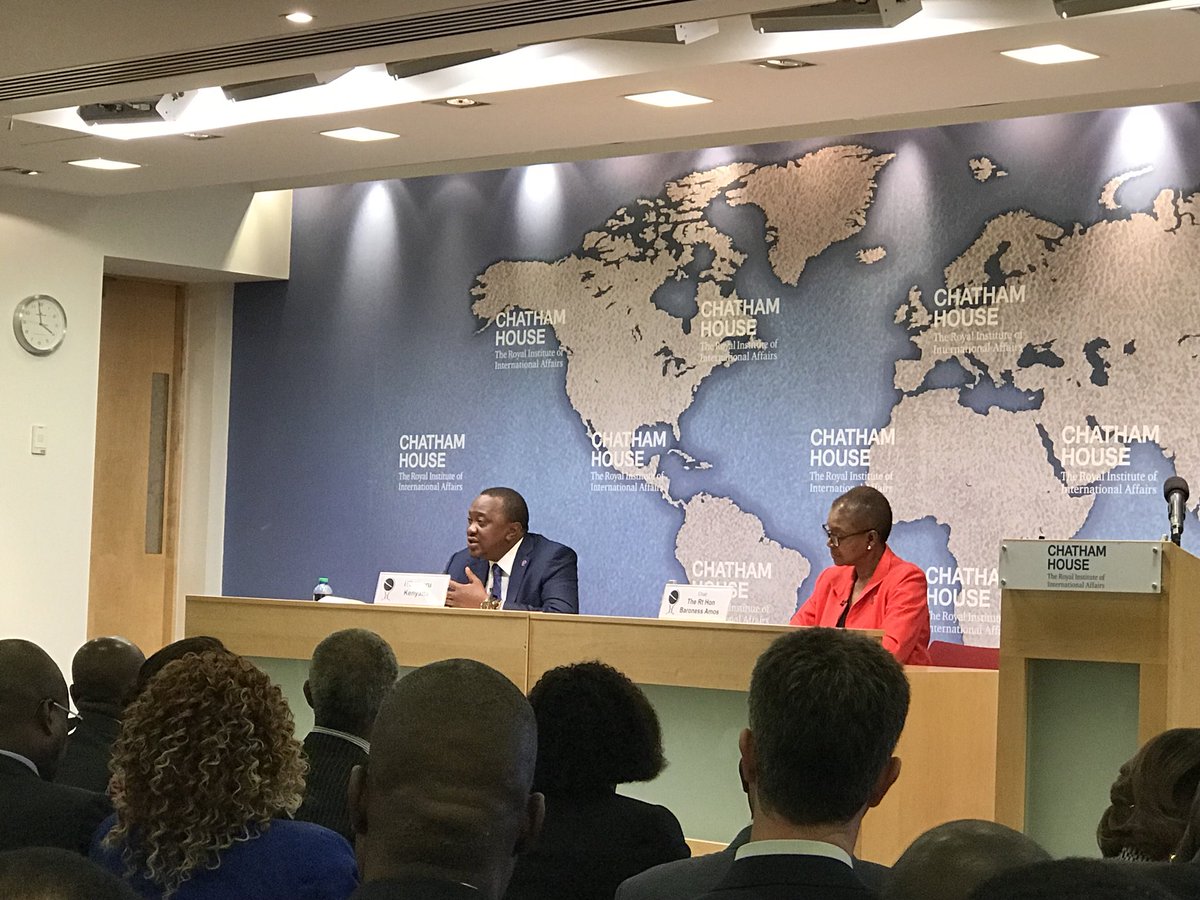 President Uhuru Kenyatta has denied that his handshake with Opposition leader Raila Odinga is meant to open up a new political front.
"Positive change is difficult to enact in a climate of instability. But instability should not be an excuse to be rigid & resist change. My reaching out to Raila Odinga must be seen in this context, and not one of opening up a new political front," he said at Chatham House in London Tuesday where he spoke on Kenya's opportunities for inclusive growth.
Uhuru, who is on a five-day tour of the UK to attend the Commonwealth Heads of State Summit, said he saw no need to continue shouting at each other.
"In regard to the handshake with Odinga: we can't continue shouting at each other. We can't ensure food security, affordable housing and access to healthcare if we are not working together," he told the gathering.
"There is a growing temptation to seek political advantage in extreme position that erodes national unity and paints compromise as a betrayal. Some seek a divided body politic at the expense of doing the hard work of building prosperity," he said.
There have been murmurs especially from Deputy President William Ruto's camp over fears the new-found unity may spoil his chances of ascending to the presidency in 2022.
This is especially after Raila flew to former president Moi's Kabarak home to wish him well following his recent hospitalisation but also to brief him on the Harambee House handshake.
He spoke as Ruto and Raila met for the first time at the late Kenneth Matiba's home where they had gone to pay tribute following his death on Sunday.
President Uhuru held that if Africa is to achieve prosperity, inclusive growth & peace, we must trade & allow our people to move freely. Domestically, countries cannot flourish if we are in a never-ending spiral of political competition, he added.
Uhuru said his government is working to tackle negative ethnicity and promote nation unity as well as gender inclusion, saying the constitution says that nobody can be denied employment on the basis of their ethnicity.
On bilateral relations, Uhuru noted UK has been an ally as well as a business partner, saying to take this to new heights, there is need for more than a celebration of the past, which will entail a partnership fit for purpose.
"Kenya and East Africa as a whole are full of energetic and ambitious young people who can build good and services. The UK can do more to make it easier for British companies to invest in Kenya, and for Kenyans to travel to the UK," he added.
"Poverty in Africa will lead to instability in Europe. As one of the many African leaders with a growing youthful population, I know we must build stronger economies if the demographic dividend is not to turn into a curse – for us and for Europe," said Uhuru.