Cartoonist Gado has censured Kenya's media for going to bed with the Jubilee administration and hence failing in its cardinal duty of being the public watchdog.
In a June 2nd cartoon, titled The Media Without Clothes, Gado portrays journalists as stooges blinded by bribes and who instead keeping the government in check have turned to hero worshiping President Uhuru Kenyatta and his deputy William Ruto.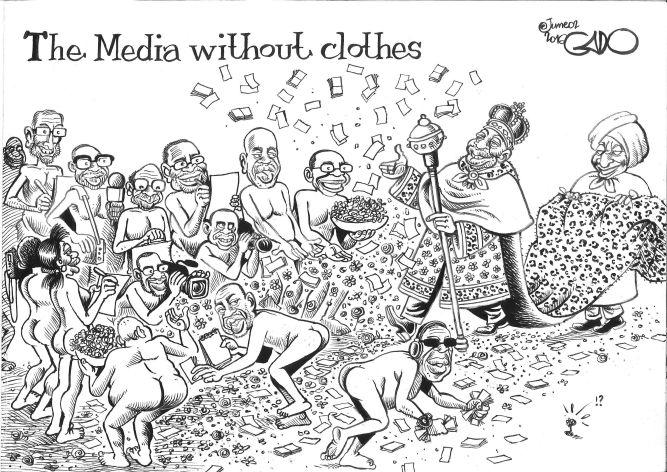 The cartoon,in which the naked journalists are seen with heaps of notes, was drawn on June 2 this year but was uploaded Tuesday on his syndicated platform, Gadocartoons.com.
It is not clear what motivated Gado to draw the cartoon but the independence and moral standards of Kenya's media have long been questioned. Journalists' dalliance with the Jubilee government was first put in the spotlight when editors and senior journalists accepted an invite for a breakfast meeting at State House, Nairobi shortly after the election in 2013.
The Jubilee government has, however, been sending mixed signals regarding its relationship with media, hitting out at the media contemptuously when they report critically about government affairs. The government has even enacted legislation seen as muzzling press freedom.
Just last week, Cord leader Raila Odinga accused journalists of fearing to put the government to account, likening them to a dog that has encountered a leopard.
"Nyinyi wanahabari mmenyamazishwa. Mmekuwa kama mbwa ambayo imeona chui (You journalists have been compromised. You are behaving like a dog that has seen a leopard)," he said during a press conference to demand the release of three Cord MPs remanded over alleged hate speech.
President Uhuru's strategy of carrying journalists from independent media houses to foreign trips to France, Germany and Belgium has also raised eyebrows with some wondering whether they are likely to remain objective in their coverage and ask tough questions on issues of public interest.
Gado was recently retained by the Standard Media Group after being edged out by the Nation Media Group for his harsh criticism of the Kenyan and Tanzanian governments. His work is closely being followed and his take on the media has caused a stir on social media, with some journalists easily identifying with the portrayal.
A closer look at the cartoon easily gives away his target as it is largely vilifying old-generation journalists.
As a possible pointer that he is hitting out at his former employer, some of the prominent images bear striking resemblance to top NMG managers and editors.
ALSO IN MEDIA