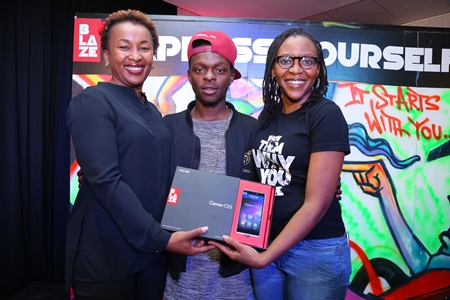 Safaricom has today announced the launch of BLAZE, a platform that seeks to empower youth using the power of mobile.
BLAZE will target the fast-growing 18-26 demographic and offer them access to a specialised platform that includes custom-made tariffs and product offerings.
BLAZE – which cost Ksh700 million to conceptualise, develop and launch – will act as a sub-brand of Safaricom and is a first-of-its-kind product that was co-created with the target audience over the course of a year.
"We realise that our youth segment has unique needs that called for specialised product offering. BLAZE will introduce a number of innovative concepts into the mobile sector including the opportunity to choose your own bundle," said Bob Collymore, CEO, Safaricom.



Create Your Plan is one of a number of unique services offered under the BLAZE portfolio that allows users to control how much they spend on voice, data and SMS each time they purchase airtime.
For instance, if a subscriber buys Ksh100 worth of credit, they have the freedom to choose how much of their money should be allocated towards data, voice or SMS, depending on their preferences.
"This is a unique innovation that we are proud to be introducing to the market. It allows our customers to always be in control and to manage their spend according to their needs," said Sylvia Mulinge, Director – Consumer Business, Safaricom.
BLAZE will also include access to a suite of products and initiatives that will be exclusive to the youth segment such as branded 3G and 4G devices, youth empowerment summits and apps that aim to enhance their experience on the network.




Safaricom is banking on the youth segment to deliver 25 per cent of its future growth, in terms of both customer numbers and revenue, by offering more relevant products and services to this segment.