When Sammy Njau started this Tangerine Furniture business he only had his daily fare to a furniture showroom that he worked for
Having no capital to start a business has been the bane of many youths in Kenya. As a result countless brilliant ideas get lost along the way, and dreams go unrealised.
But this was never going to deter one determined Kenyan .He started from zero and, hardly a year down the line, his business has grown in into hundreds of thousands.
That's the story of Sammy Njau, a real estate graduate from the University of Nairobi and founder of Tangerine Furniture. He defied many obstacles to pursue his one passion: creating beautiful furniture.
Located in Ngara, on the outskirts of Nairobi city centre, Tangerine offers a variety of furniture from sofa sets, dining sets, coffee tables and even curtains. Here, customers make their unique orders and immediately the technicians swing into action. The company has a showroom and its own workshop.
Njau says when he started this modern furniture business he had no capital – just his day's fare from his house to a furniture showroom that he worked for in at Ngara. "I was just a marketer in another furniture house with no money of my own. All I had was transport (sic) to take me from Thika Road to Ngara; but I had an idea, so I had to start with what I had."
Like most graduates who opt for employment, Sammy too could not resist the temptation. "It was not a real job," he says, as he supervises final touches to a sofa set. "Just internship, that's the closest I came to employment and I did not even finish it. It just dint work for me."
So he turned himself into a broker. He would advertise his former employer's furniture then earn commissions from any conversions. He marketed online largely, benefiting immensely from referrals accruing from the excellent services he had rendered to his clients. "You see you are not going to get referrals if yours is a shoddy work," he asserts.
Passion for the best
Soon he started making his own and started the baby steps to creating Tangerine.
Njau loves seeing beautiful spaces that create impressions. So unlike most businesspeople, money is less motivation than producing excellent pieces of work.  "To me making state-of-the-art furniture is my passion. I believe in quality as opposed to quantity – producing master pieces that satisfy my client."
So what can he attribute his success to? "Honesty! Tangerine prides itself with being honest, and with passion we offer the best services," he says.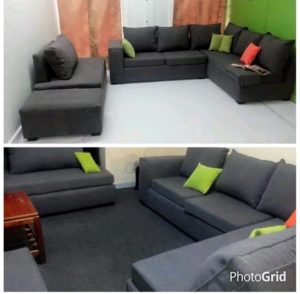 Born or made, to him an entrepreneur should poses a certain set of character traits that include: consistency – to keep doing your work and stay put for period of time; flexibility – the ability to make some changes to accommodate new circumstances.
"Those two may sound paradoxical, but entrepreneurship is a w*r of its kind, you can't keep applying the same tactics you used to win yesterday. This is because circumstances keep changing. He also talks of speed and stamina in the e*******n of business ideas; the need to keep up with competition.
 On challenges
He talks of a few glitches he has encountered while dealing with some of his clients "Some clients may place a request but after the item is done and for some reason it does not look like what they had imagined, they refuse to pay. Others may delay in paying. And since we design specifically for individual clients if they don't pay you can't re-sell it. Like say a pink sofa," he says with a hearty laugh.
Another challenge is business fluctuation. This business too has high and low seasons. But he has to pay bills and his employees in time.
In a few years to come Tangerine plans to set up large showrooms in all the major towns in the country with the best quality furniture at fair prices.
He advises up and coming entrepreneurs to make use of new technology, read all the books that you need to read, delegate when necessary, be persistent, adaptable and flexible.
He likens business with a horse riding "Like horseman, you can't hold on to the rails too tightly as to curtail its movement neither should it be too loose as to let go control. "
Currently Sammy is reading Tim Feriss' – The-4-Hour -Workweek.
ALSO IN THIS SECTION