GALAVA vs NATION: PART I
Journalist Dennis Galava, who was recently sacked as Special Projects and Investigations Editor by Nation Media Group, has made true his threat to sue the giant media house. He accuses its top management of orchestrating his wrongful dismissal for allegedly violating non-existent editorial writing procedures.
In an affidavit filed before the Labour and Employment Relations Court on Monday, Galava, through his lawyers, Kemboy and Company Advocates, has thrown the gloves off. He reveals damning details of unprofessional conduct among Nation top editors and management as well as acts of betrayal and backstabbing that will leave Nation Media not only horribly embarrassed but with quite some homework in cleaning its image in as many weeks.
Even then, it's said Galava was advised by his lawyers to redact some stinging parts of the affidavit which will be unleashed during the hearing.
For NMG CEO Joe Muganda and Editor in Chief Tom Mshindi, the information comes at a tricky time, just when Nation Media major shareholder His Highness the Aga Khan is coming to town. He is expected to jet in tomorrow, Wednesday March 16th 2016.
It's not clear whether the case was planned to coincide with Aga Khan's timing to inflict more impact.
Perhaps the mild of the charges by Galava is accusing State House of pressuring Nation Media Group to sack him. He notes that the allegation that he willfully disobeyed "the covenants and laid down process and procedures" in respect to the publication of an editorial that strongly censured President Uhuru Kenyatta's stewardship in 2015 does not hold water as they were formulated after the fateful editorial published on January 2, 2016.
"I was surprised to learn that two hours after submitting my response stating that there were no written procedures for editorial writing, the Editor-in-Chief issued – for the first time – comprehensive guidelines and timelines for editorials," says Galava.
According to Galava, 41, since he was employed at Nation on July 26, 2010, as a Rewrite Editor/Deputy Managing Editor, he had written many editorials on key issues and at no time was the issue of procedure raised, leading him to conclude that the whole problem lay with the content.
He further denies that he never consulted anyone before writing the editorial. On January 1, he says in the affidavit filed for the first of three cases, as the senior editor on duty, part of his roles involved overseeing the production of the next day's paper and that he held a routine editorial planning meeting at which the issue was discussed and it was agreed that he writes it.
After completing the task, Galava, who is seeking about Sh0.5 billion (Ksh425 million) in compensation and damages, says he gave it to Kariuki Waihenya, the editor standing in for Saturday Nation Managing Editor Timothy Wanyonyi, who was on leave, and that he had no objection, only remarking that it was hard hitting but truthful.
The affidavit goes on to say that Weekend Group Managing Editor Eric Obino was of the same view the following day when the editorial, titled "Mr President get your act together this year", caused a stir especially on social media even as editors were inundated with congratulatory calls. But things came to a naught when a senior State House official called to complain about it.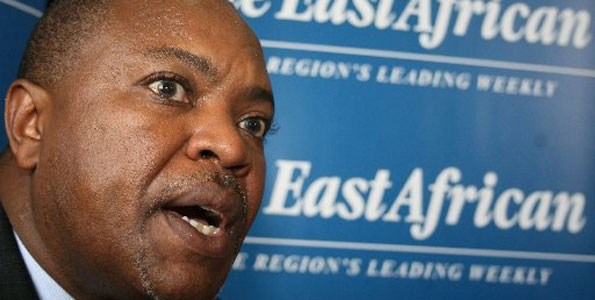 Galava contests the discriminatory and arbitrary manner in which he was first suspended and then sacked and points an accusing finger at Editor-in-Chief Tom Mshindi of working to protect the media house's commercial interests by pleasing State House, which had only weeks earlier mended ties with Nation Centre during discussions held when His Highness Aga Khan visited Kenya as a state guest on the occasion of the Jamhuri Day celebrations.
In a separate case, he is also suing NMG Chief Executive Officer Joe Muganda for likening him to a thieving banker in an interview with BBC after his suspension.
For the first time he reveals that he was suspended for 30 days, while Nation editor in chief insisted it was some days off, during which he earned half pay. He gives chilling details of how he was crudely suspended while off duty. Turns out, the first time he was involved in the discussions about the editorial was the last time he worked for Nation.
"I left office around midday to take my niece to school in Limuru," Galava says. "While on the road, the GME (group managing editor) Weekend editions (Eric Obino) called asking me to join him at the HR office urgently. I told him I was out of the office ad after a very long pause he informed me I had been suspended over the editorial."
He picked the letter the following day from the Managing Editor Daily editions Mutuma Mathiu. "I was baffled. I had written 476 editorials and two page-one comments. I had followed the standard format in these cases and in the present case. Not once had questions of procedure been raised."
Galava claims Mshindi had a personal vendetta against him for failing to play ball when he sought to install him as a spy in the newsroom and to undermine fellow editors. He says Mshindi had hinted to him about major editorial changes which would see Obino and Mutuma moved to ceremonial positions for failing to deliver.
Galava would be appointed as Managing editor Daily Nation to lead a new team of newsroom managers. "He said this was part of the succession planning and also plugging gaping holes in the newsroom leadership," Galava recalls.
In return for the new position in the newsroom, Mshindi asked Galava to monitor the news queues  and brief him daily on 'contentious' stories lined up so that he is not caught unawares. "I categorically told him that was not possible as it amounted to spying on my peers and seniors."
Mshindi did not respond.
Next: What Mshindi thinks about the CEO Joe Muganda and how the editor- in-chief asked editors to slow down on Eurobond, NYS and the Kenyatta connection in the looting of the coffee industry.